Pet Estate Plan
iPhone and iPad (Version 1.0) - 7/27/2021

Mac (Version 1.0) - 7/27/2021

Who will care for your pets upon your death or during a medical emergency when you are unable to care for them yourself?
A Pet Guardianship Agreement is one document that should be included in an estate plan along with your Will, Trust, and/or Power of Attorney.
This pet guardianship themed estate plan app is for Illinois residents to protect their pets, family, and property upon their death. Users outside Illinois may use the app as reference to fully understand the legal requirements to write their own documents that comply with local law.
The free version of this app provides a tutorial about how to complete both a pet guardianship agreement for animals and Will for yourself. The tutorial fully explains each provision of these documents from an informational perspective. Actual Illinois laws are included for users to learn about the legal requirements for a Will.
Also included with the free version is a PDF document to index account usernames and passwords. For example, social media companies do not allow your family access to the account after your death. Your profile and photos may remain visible for decades past your death despite family attempts to close the account. Use this username/password sheet to write down important account information to keep in a safe place with your estate plan.
In-app purchases (iOS version only) are available to access premium content that consists of actual fill-in-the-blank legal PDF documents.
The Pet Guardianship portion of the app includes the following options that range from $1.99 to $4.99 each (iOS version only).
1. Pet Guardianship Agreement (with and without a notary)
2. Notarized affidavit for the pet owner
3. Notarized affidavit for the appointed guardians
The Wills portion of the app includes the following options that range from $1.99 to $5.99 each (iOS version only).
1. Single without children
2. Married without children
3. Married with minor children
4. Married with adult children
5. Single with minor children
6. Single with adult children
7. Notarized Witness Affidavit
Every Will is available with and without a notary. Each family scenario includes a basic and extended version. The basic version gives all property to a single beneficiary. The extended versions have provisions to itemize property distribution for one house, two vehicles, two financial accounts, three pets, and five lists for specific property (i.e. jewelry, coin collection, DVDs, etc). Those for minor children involve guardianship. A provision is also included for funeral instructions.
The developer, Michael E. Byczek, is a licensed Illinois attorney with a background in computer engineering. He was one of the first attorneys in the United States to develop legal apps for iOS and macOS beginning in 2008 focusing on PDF legal documents and analysis of intellectual property law.
The iOS version of this app allows you to print or save each purchased PDF document directly from the app. The macOS version is informational only without any option to purchase the documents. Users may either use the iOS version for in-app purchase options or obtain the documents directly from the developer.
The PDF documents are not fillable online and must be printed in fill-in-the-blank format to best protect user privacy. The app does not collect or request any personal information.
Disclaimer: This app is intended for residents in Illinois to write an estate plan. The documents are Illinois-specific. Any user may use the app for information to understand the legal requirements of a pet guardianship agreement and Will.
For more information about the developer, visit www.michaelbyczek.pro.
Michael E. Byczek
Attorney at Law
Chicago, IL (USA)
Email: michael@byczek.pro
Web: http://attorney.byczek.pro
Mobile Apps: http://www.byczek.pro
Software Screenshots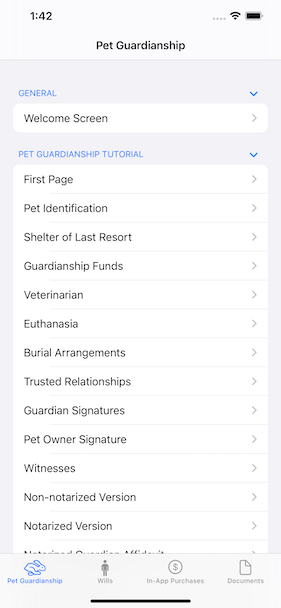 Pet Categories (iPhone)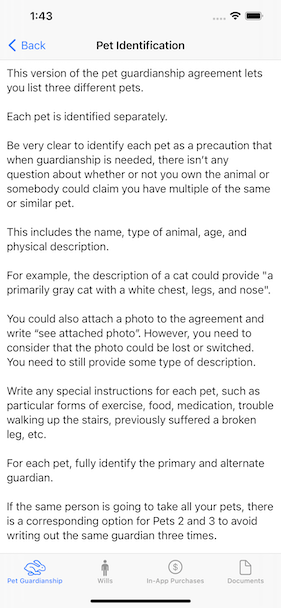 Info about Pet Identification (iPhone)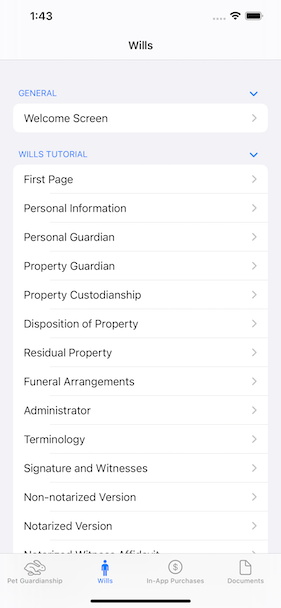 Will Categories (iPhone)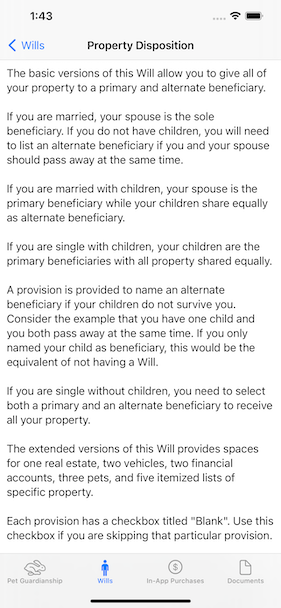 Info about Property Distribution (iPhone)
Document Archive (iPhone)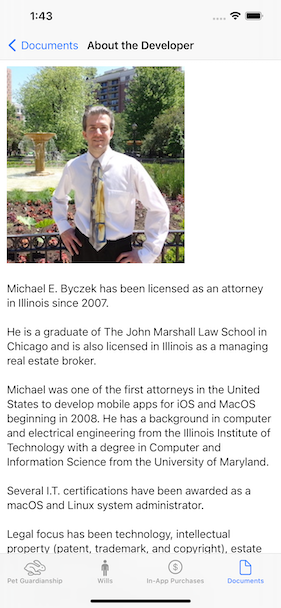 About the Developer (iPhone)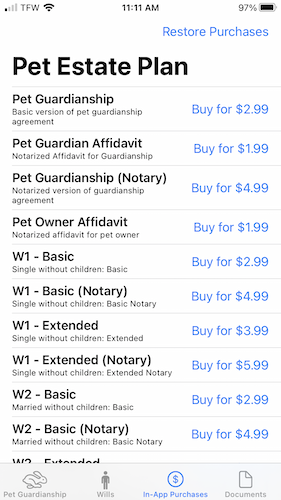 List of In-App Options (iPhone)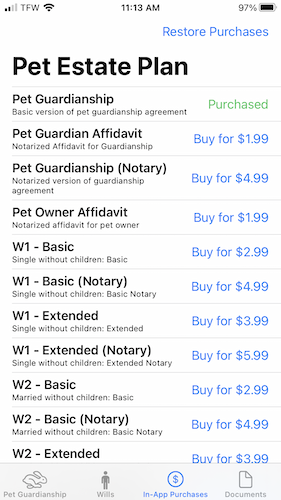 Result after an In-App Purchase (iPhone)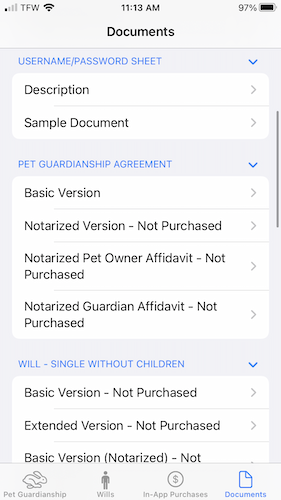 Document Archive showing Purchased Document is Available (iPhone)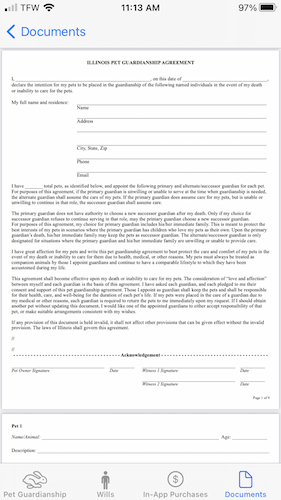 PDF View of Document (iPhone)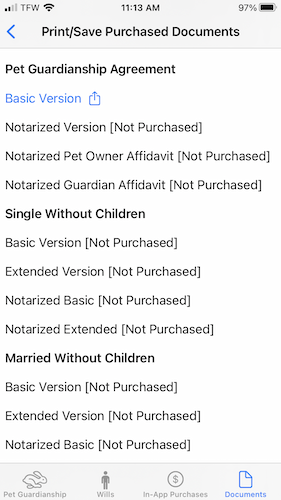 Print/Save Master Index showing Document available to print/save (iPhone)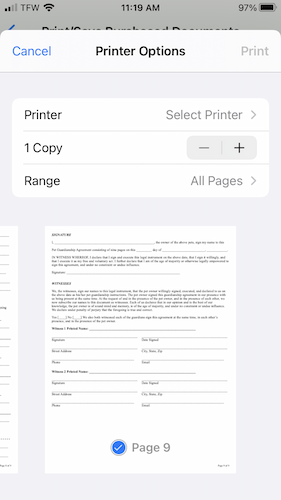 Print Option (iPhone)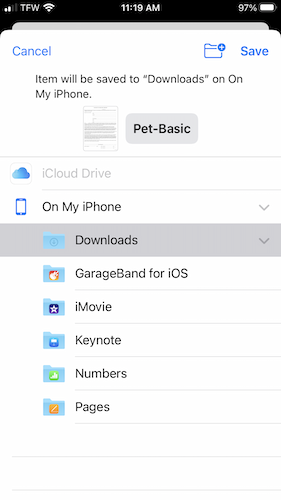 Save Option (iPhone)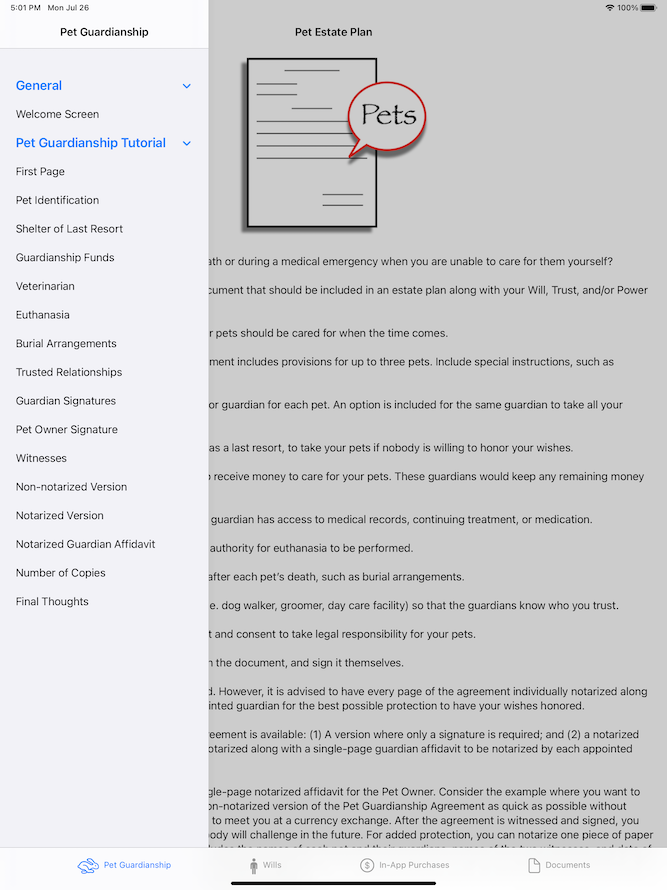 Pet Categories (iPad)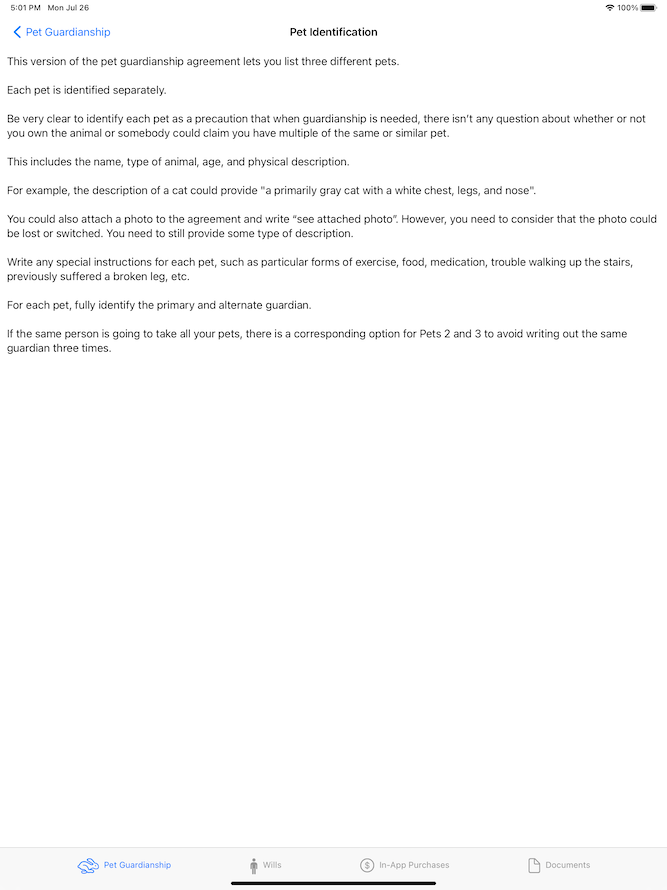 Info about Pet Identification (iPad)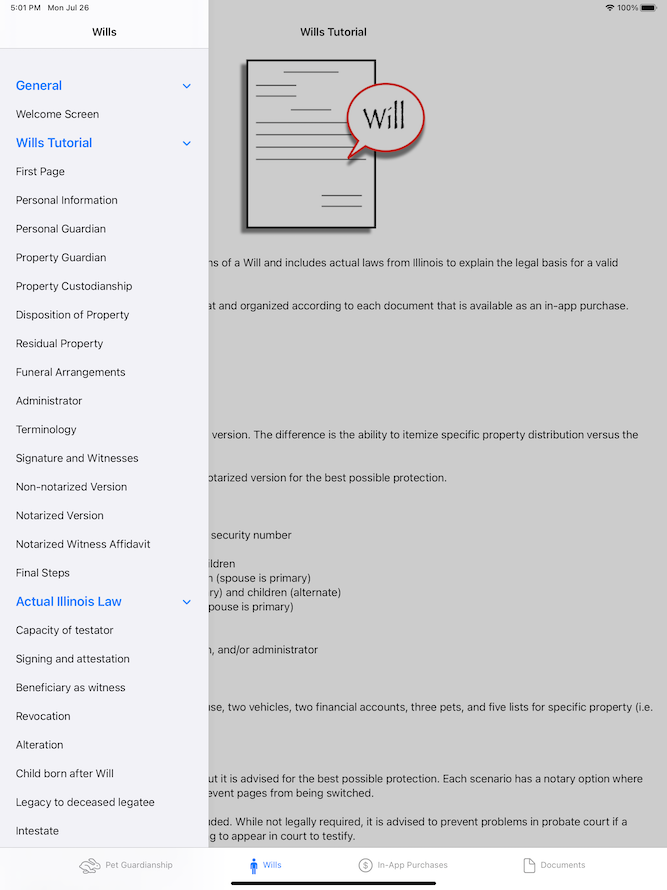 Will Categories (iPad)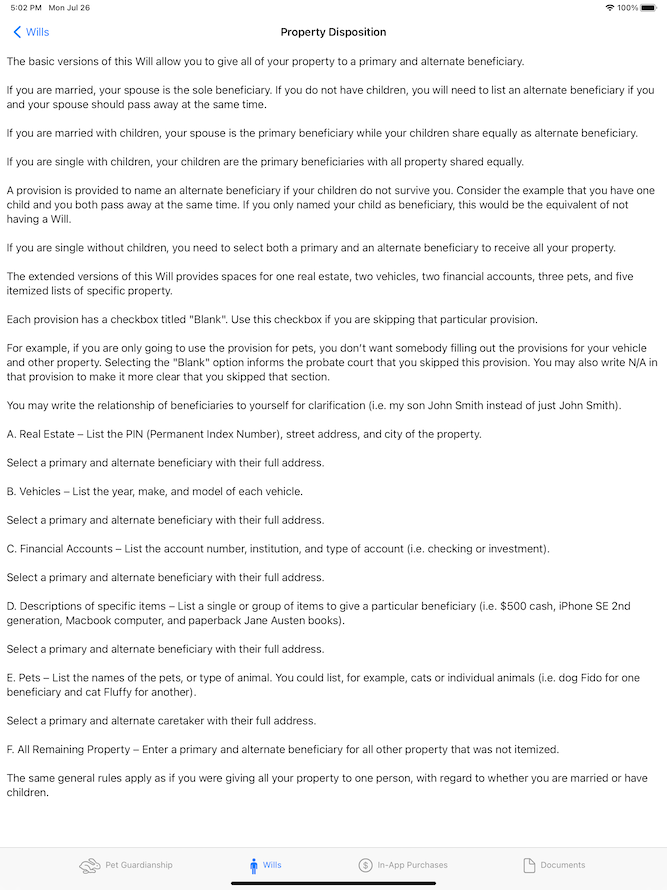 Info about Property Distribution (iPad)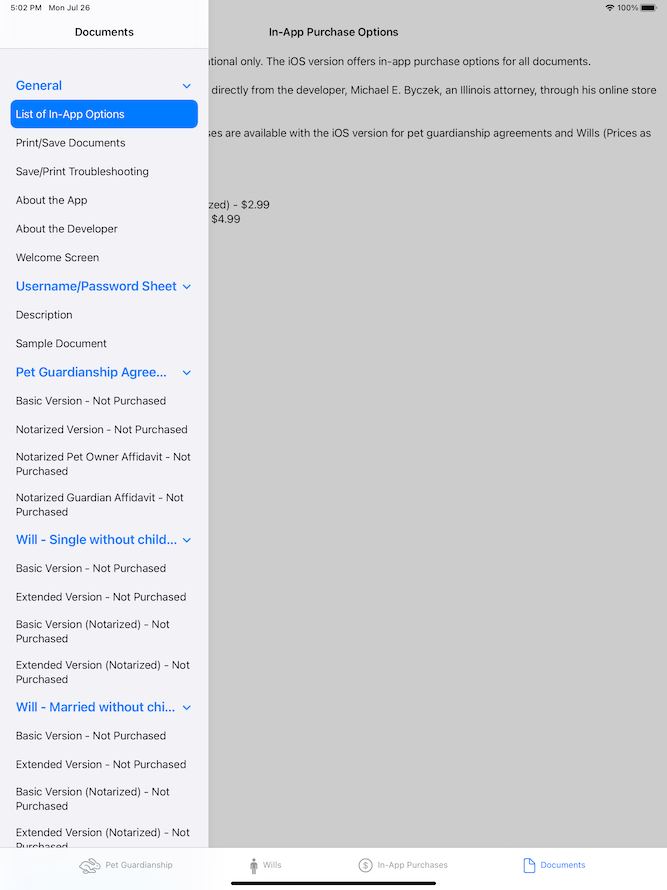 Document Archive (iPad)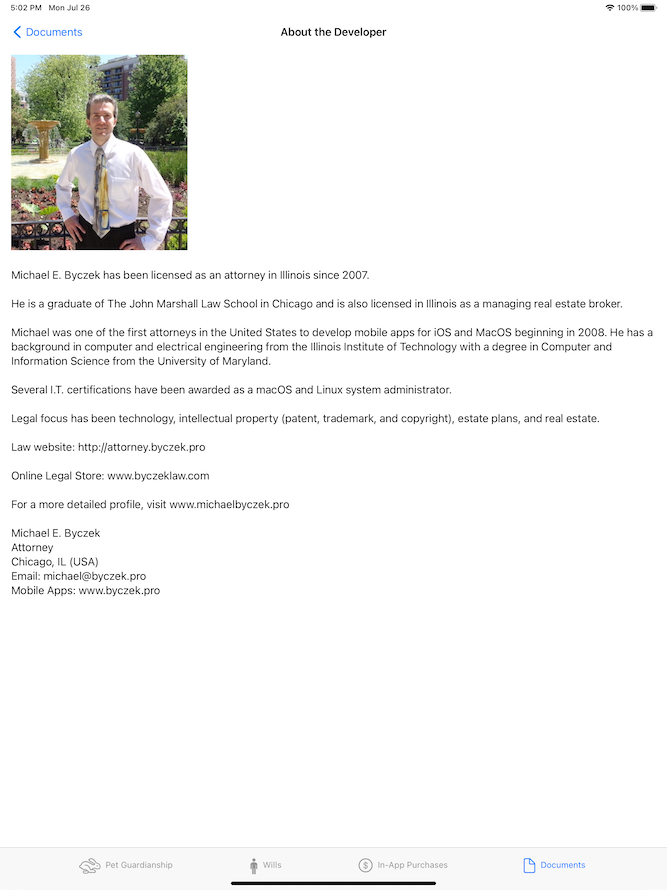 About the Developer (iPad)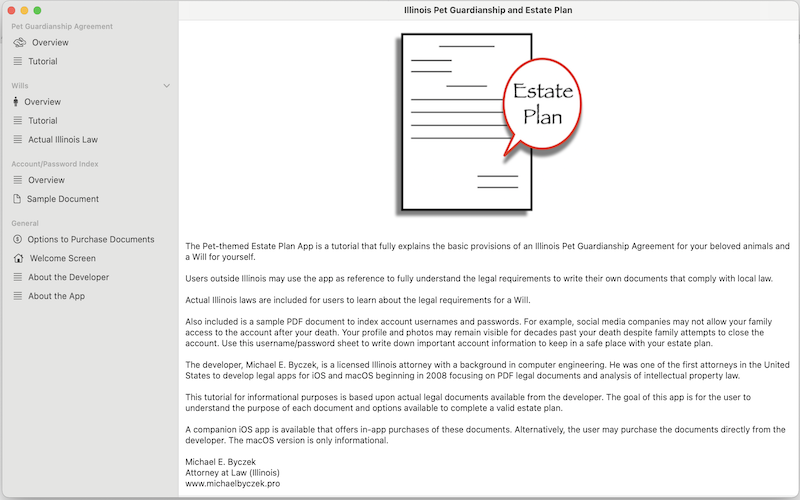 Main Screen (Mac)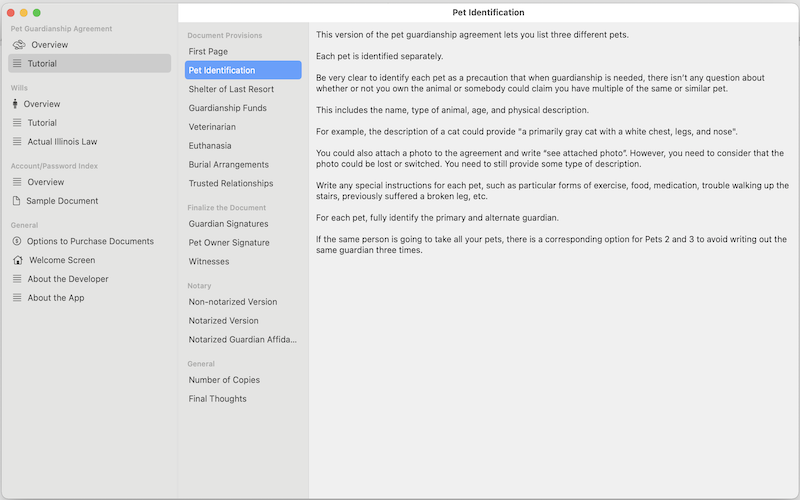 Pet Categories (Mac)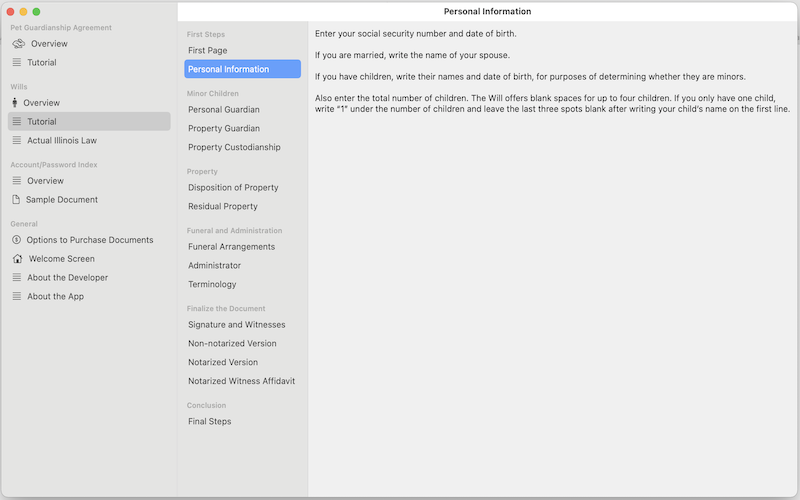 Will Categories (Mac)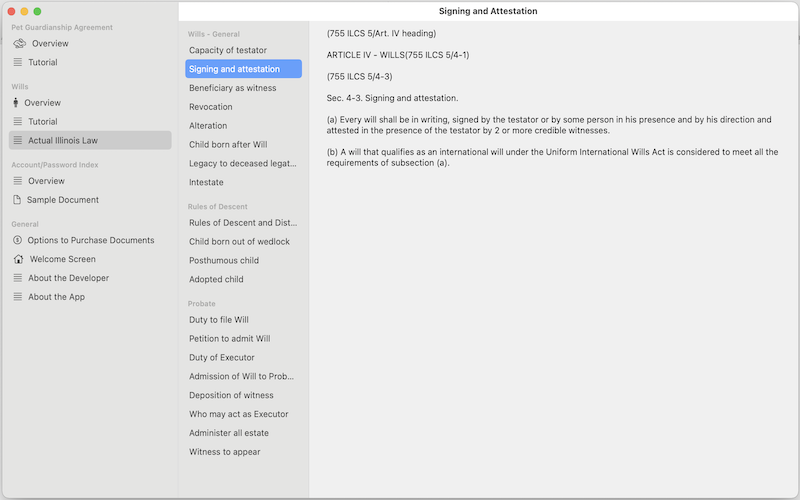 Illinois Law (Mac)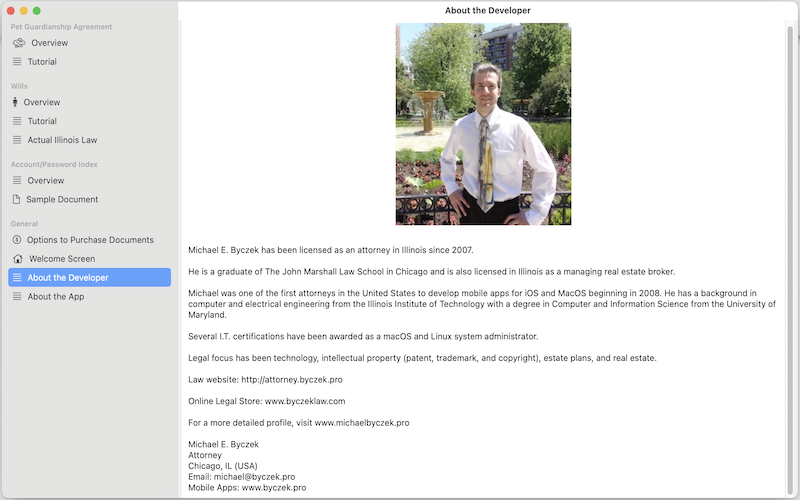 About the Developer (Mac)
Privacy Policy
View All Mobile Apps
Main | Languages | Databases | Software Engineering | Python | Data Science | Spreadsheets | Algorithms | Cloud Platforms | Big Data | Operating Systems | Cyber Security | eDiscovery | Legal Software