Pet Guardianship Agreement
Android
Google Play (Version 1.0) - 9/6/2021
Amazon Appstore (Version 1.0) - 9/7/2021

Who will care for your pets upon your death or during a medical emergency when you are unable to care for them yourself?
A Pet Guardianship Agreement is one document that should be included in an estate plan along with your Will, Trust, and/or Power of Attorney.
The developer, Michael E. Byczek, is a licensed managing real estate broker and attorney in Illinois. He has been licensed as a broker since 2003 and an attorney since 2007.
The information is for Illinois, written by an Illinois attorney, but is presented in tutorial format to help anybody understand the basics of a pet guardianship agreement regardless of where they reside.
Included with this app are the following sample documents in tutorial format:
1. Nine-page non-notarized pet guardianship agreement
2. Fifteen-page notarized version
3. Notarized affidavit for the pet owner
4. Notarized affidavit for each guardian
This app does not allow the documents to be saved or downloaded. The information is only presented as a tutorial using actual legal documents to understand the process.
Users are welcome to write their own pet guardianship agreement using the tutorial, information, and documents as a foundation.
Residents of Illinois may purchase the legal documents in PDF format directly from Michael E. Byczek through his virtual online legal store (www.byczeklaw.com).
A pet guardianship agreement consists of the following provisions:
1. Fully identify each pet.
2. Name a primary and alternate/successor guardian for each pet.
3. Pick an animal shelter or organization, as a last resort.
4. Arrange for the appointed guardians to receive money to care for your pets.
5. Identify your veterinarian.
6. Determine whether each guardian has authority for euthanasia to be performed.
7. Provide instructions for what happens after each pet's death, such as burial arrangements.
8. List up to three trusted relationships (i.e. dog walker, groomer, day care facility).
The pet owner and each guardian must sign the document. Two witnesses are required.
It is advised to notarize the document, or at least notarize a short affidavit.
A Pet Guardianship Agreement is a good idea to protect your pets. It allows you to pick who should take responsibility for them. You don't want your pets taken to an animal shelter because your family was fighting over your estate. Somebody could claim a verbal promise from you. Without a written agreement, anybody could simply take the pets, including those who you would never approve.
Disclaimer:
This package is intended for residents in Illinois. Those outside Illinois may refer to the documents and instructions for reference to write their pet guardianship agreement themselves that comply with their own local laws. The documents are Illinois-specific.
Legal services are not provided as part of this package. Michael E. Byczek does not represent you and will not provide any legal advice or assistance. Legal services are available for an additional fee, which requires an attorney-client agreement.
Software Screenshots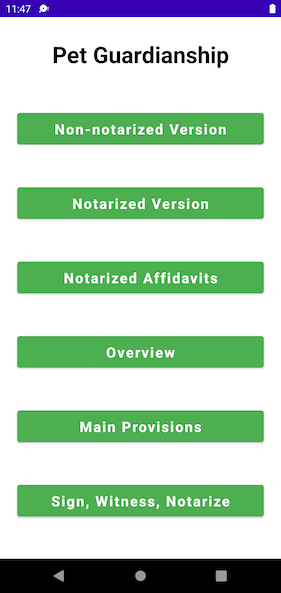 Main Screen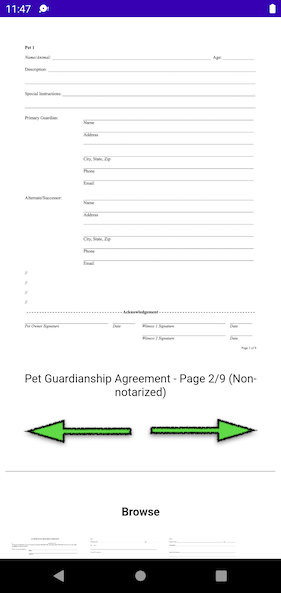 Scroll through Pet Guardianship Agreement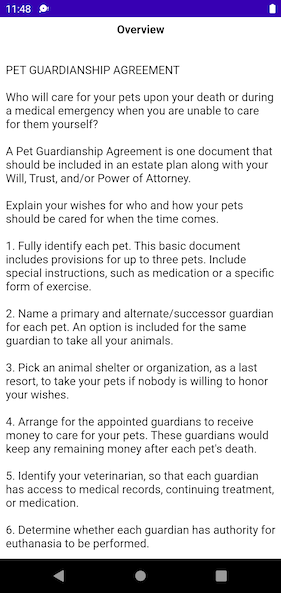 Overview of a Pet Guardianship Agreement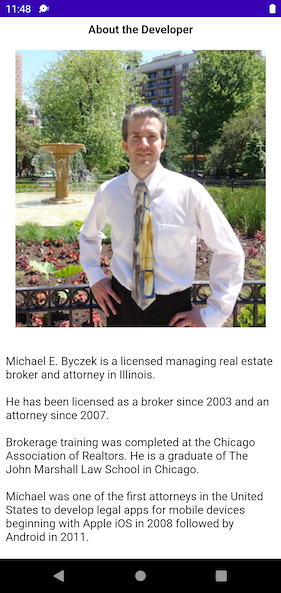 About the Developer
Privacy Policy
View All Mobile Apps
Main | Languages | Databases | Software Engineering | Python | Data Science | Spreadsheets | Algorithms | Cloud Platforms | Big Data | Operating Systems | Cyber Security | eDiscovery | Legal Software