Tenant Repayment Plan

Android

Google Play (Version 1.0) - 8/16/2021
Amazon Appstore (Version 1.0) - 8/26/2021



This app is for tenants and landlords to avoid an eviction when a rent repayment plan is possible. An eviction is a costly and time consuming process without any guarantee that a landlord will recover unpaid rent and subject a tenant who may have missed just one month's payment to long-term credit difficulties.
The developer, Michael E. Byczek, is a licensed managing real estate broker and attorney in Illinois. He has been licensed as a broker since 2003 and an attorney since 2007. Michael was one of the first attorneys in the United States to develop legal apps for mobile devices beginning with Apple iOS in 2008 followed by Android in 2011.
The information is for Illinois, written by an Illinois attorney, but is presented in tutorial format to help anybody understand rent repayment plan procedure regardless of where they reside.
Included with this app:
1. Three-page rent repayment plan
2. Cover letter for the tenant to send a landlord
3. Cover letter for the landlord to send the tenant
4. Detailed instructions to understand these documents
5. Excerpts from actual Chicago ordinance that pertain to a rent repayment plan
6. Information about government assistance and resources
This app does not allow the documents to be saved or downloaded. The information is only presented as a tutorial using actual legal documents to understand the process.
Users are welcome to write their own rent repayment plan using the tutorial, information, and documents as a foundation.
Residents of Illinois may purchase the legal documents in PDF format directly from Michael E. Byczek through his virtual online legal store (www.byczeklaw.com).
There are legal obligations on landlords to enter into good-faith negotiations with tenants to arrange a rent repayment plan. Some tenants who missed their rent did so without any fault of their own and would like an opportunity to avoid eviction through a rent repayment agreement. Landlords benefit from recovering lost rent without the need for an eviction.
The contract is based on a 12-month lease with at least one unpaid month (a 12 month chart is included). There are three repayment options: (1) downpayment of what the tenant can afford and pay the balance over an agreed upon number of months; (2) repay the entire balance in equal amounts; or (3) make minimum monthly payments with a lump sum due at the end of the lease. All payments are deferred for two months by default with an option to start repayment immediately.
Options allow whether to apply money held by the landlord in the form of security deposit and prepayment of rent towards the balance. It also allows the landlord to impose late fees, interest on the balance, or an early termination fee if the tenant vacates the property. A lease modification provision is included to reduce or defer future rent payments.
Disclaimer:
The cover letters are provided as a sample that may not apply to all scenarios. Users are advised to fully understand the rules for protection from eviction. Chicago, Illinois, and the federal government have different disclosure requirements for both landlords and tenants.
The developer does not provide legal services through this app, and users are advised to fully research and understand the laws or rules that apply to their own unique eviction or unpaid rent circumstances. The three-page Rent Repayment Plan was written for broad coverage in Illinois that applies to most fact patterns. Users are still encouraged to verify that all documents, declarations, disclosures, and procedures offer the best possible financial and legal protection.
Software Screenshots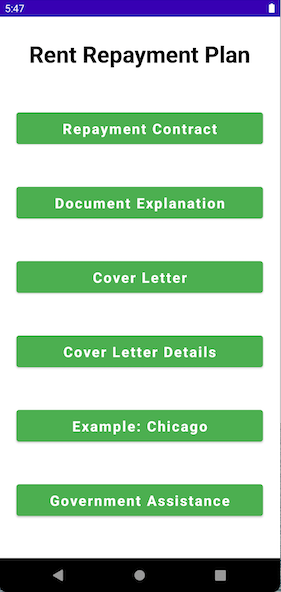 Main Screen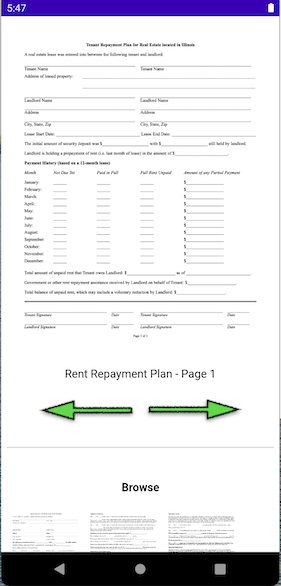 Scroll through Rent Repayment Plan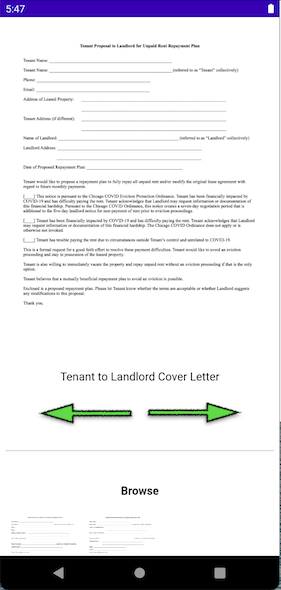 Scroll through Cover Letters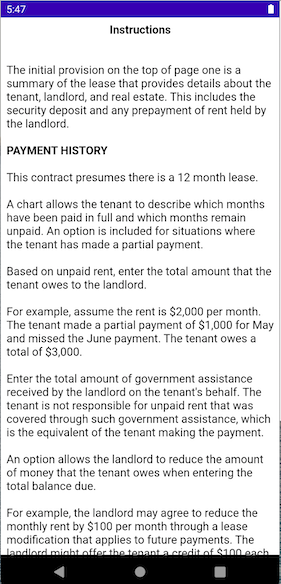 Instructions about the document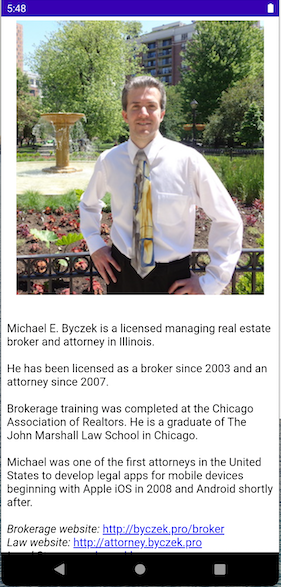 About the Developer
Privacy Policy
View All Mobile Apps
Main | Languages | Databases | Software Engineering | Python | Data Science | Spreadsheets | Algorithms | Cloud Platforms | Big Data | Operating Systems | Cyber Security | eDiscovery | Legal Software